07-27-2020, 02:31 PM
When I was in 7th grade, serendipity presented me with a memorable petticoat thrill.
It happened the first time I left the house in a pair of my 10th grade sister's step-ins.  She was in the high school band and we were going to see her band on a Friday night at a football game vs. Bryan Adams high over in the wealthy part of town (north Dallas).  We picked up K**** S., another flute player and motored across town to the game.  (K**** S. was a cutie.  I'd have wanted to be K**** S.)
So, I was a dopey kid wearing my sister's panties and I just knew if someone looked closely enough they could tell I was wearing girl's underwear.  I felt like my bottom was glowing and my bottom was tingly with what felt like a low-level electrical charge.  You know the feeling.  So, I was sitting in the backseat of the car, hip to hip with my sister and K**** S. and couldn't take my mind off those three pantied bottoms sitting side-by-side.
We got to the game.  I was sure it was evident I was showing.  My bottom was glowing and tingling.  I spent the first half watching the cheerleaders and thinking how neat it'd be to be one of them.  Then, at half-time, the Bryan Adams Belles (drill team) took the field.  They were in "boots and panties" (tights, but they looked like white panties to me) and wore these short skirts with more petticoats than I could ever imagine.  Petticoats "up to here!"  I found a period-correct image of the Belles' captains out on the internet.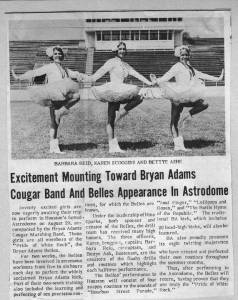 There were (and I am not making this up) about 100 girls in the unit in those outfits doing dance steps and high kicks.  I felt like I was wearing the same thing they were.  And, I wanted those petticoats.  (I'd still like to have those petticoats.)
Of course, I made it home with my secret in tact.  Dopey kid.  But, I had a great Friday night.