August 05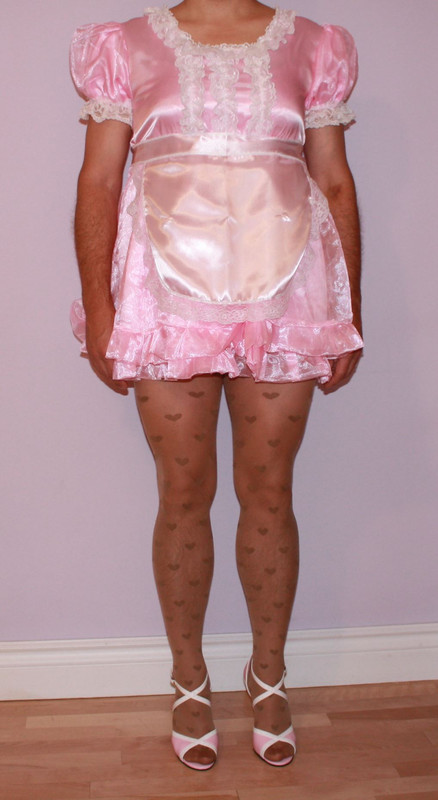 The small white satin apron here came from SissyFrenchMaid.com (
https://shop.eblue.com/pinafores/french-...n-pinafore
) when I purchased the pink sissy maid dress.
When I purchased the dress for myself I wanted to know what it would feel like to wear such a frilly sissy dress, as all of my dresses to that point were regular ones that were marketed to women. The dress is so OTT that initially I wasn't sure what my wife truly felt about seeing me in it. So I decided to myself that I would not initiate choosing to wear it when we were spending time together in the evening, the most common times that I tend to wear pretty clothes when we are together. It was only when we had decided to try out me getting up early and dressing in a pretty outfit, including an apron, and doing some tasks as a maid, that this dress started to be one that would get chosen from time to time. However, of course there is a preference from my wife towards the 
Daisy Gingham
dress that she ordered for me, so she remembers that one first when suggesting a dress for me to wear. But, she does say that this one is cute and that I look sweet in it. So I am happy that it is not too OTT for her and I get to wear it for her feeling good about the submissive feelings that I feel when wearing it.
I love the puffy sleeves and lace trim as well as the ruffles at the bottom of the dress. Years ago I had purchased pair of rhumba panties that turns out to be the same shade of pink as the dress, and so they go quite well together. With short dresses like this one and the Daisy Gingham dress, it is important that the panties that could so easily be seen too, be part of the outfit.
I would like to have a pair of hose in a pink shade that would go well with the dress, but have not come across one yet. So I added the heart themed one, since we both love hearts on clothes that we wear pivately for each other.
The shoes are ones that I purchased in a crossdressing shop a number of years ago, with my wife there helping me to pick them out and make sure that they fit. They are way too high for me to wear too often for any length of time, but an hour or so in the morning while also doing some tasks that require sitting is fine, and they go so well in the outfit. This is also another outfit that my wife suggests works better with breast forms, rather than simply my own rather flat chest, which she prefers most of the time.
P.S. I never realized just how hairy my arms are until I started to post these photos of me in my dresses and aprons. Sigh. Testosterone and pretty clothes. Don't seem to mix well to the current-day eye.