07-20-2019, 05:03 AM (This post was last modified: 08-07-2019, 12:20 AM by Bobbie-Sue.)
Here is a thread that I am starting and plan to contribute to until my collection of about 20 or so aprons runs out. These are the guidelines that I would like to suggest.
Only one picture of a forum member posted per day

Pictures should be of a forum member wearing their apron

No limit to the number of posts discussing the picture or discussing aprons in general

I invite you to contribute a picture of yourself, or of your petticoated male, if no one else has posted a picture that day. If by 10:00pm east coast time, a picture has not been posted, I will contribute one of my own. I have been getting up early often these days to serve my wife and she has taken pictures of me in my apron and outfit each day. We plan to continue taking pictures until I have worn all of the aprons in my collection. 
I was inspired by Teresa (
Panties & Petticoat Fun on Him Last Weekend & Next Steps-All Gone
), when she asked how she could post pictures in this forum. I investigated for myself to give her an answer as I had originally encouraged her to add images to her posts. Sadly, she left before posting any pictures.
See this forum thread,
Testing out Mediafire account link
, for ways to upload pictures and share them here.
I named the thread in honour of my father who passed away a few years ago. His browser home page was
APOD
.
---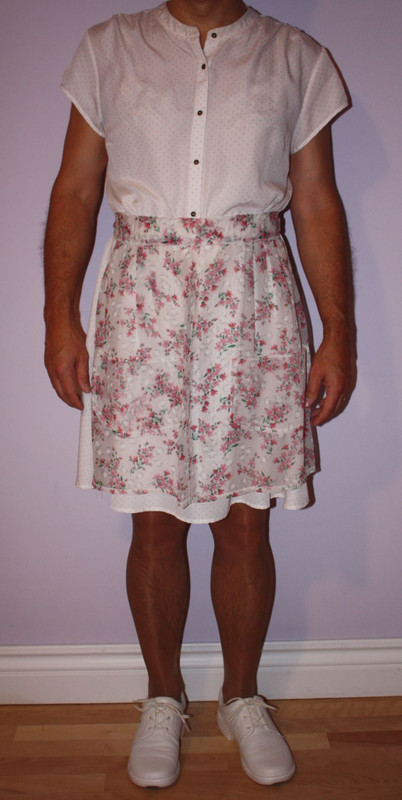 A light white flowery apron. I believe I found it on a web site a number of years ago of someone selling a number of vintage aprons that they found in a house that was sold after the occupants could no longer stay in it.
The front-button dress is a light summer one that is cool for doing maid duties when it is warm. No breast forms for this outfit, but a nice lacy white bra that fits fairly well. The pantihose are one of my favourites, picked up at Winners and originally from Russia, I believe. Many wearings with no runs! The comfortable white shoes are nurses shoes, with a cute small blue heart on the side (sorry, it can't be seen from this angle).
I love the outfit rundown that Tyler does at the end of her videos (ex.
https://youtu.be/Y-Bm-kPxTKI?t=466
). I don't remember enough of where my pieces came from to do that, but I will do the best that I can.