---
Must Have - rubberpinafore - 06-26-2016

What is your most precious item in your "fun box"?  What can't you do without and if you had to, you'd feel miserable?

For me, aside from my wife, it is my collection of aprons.  You?


---
RE: Must Have - tiffany - 06-28-2016

My favorite lacey panties and sissy hair bows!


---
RE: Must Have - Ali - 07-03-2016

My schoolgirl uniform. I love it!


---
RE: Must Have - Bill - 12-28-2016

This special hanky Jenny has . 1920/30's embroidered silk and lace hankt . She says she will use it on me if i am good and if i am very good she will give it to me .


---
RE: Must Have - Maid Jennifer - 12-29-2016

Without my Mistress/Wife my feminization might never have occurred, I couldn't do without Her but not just for this reason. In terms of physical things I couldn't do without my lingerie drawer and certainly my maid's dress, my pretty things define what I have become. I'd feel miserable if I couldn't be at my ironing board ironing a blouse or something for my Wife so She could look Her best.


---
RE: Must Have - sissy maid mary - 12-29-2016

My chastity cage, although I can only be locked 24/7 occaisionally (like christmas) I try and wear it as much as possible so it feels normal to be caged.
the same goes for my bras.


---
RE: Must Have - Bobby1111 - 12-29-2016

This was a hard one for me to decide.

But ultimately, I think the choice would have to be my homemade cloth diapers. I discovered the secret over thirty years ago when I stumbled upon a long length of cheesecloth. Since then, I've continually improved and modified them, but they remain a simple, (in my opinion) perfect diaper. Unbelievably soft, cushiony, and inside a pair of plastic or rubber panties, give a nice round shape, making them impossible for a sissy to hide from others;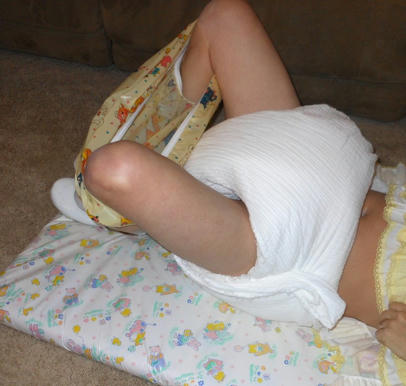 ---
RE: Must Have - Sissy Renee - 12-30-2016



For me, it's my computer that allows me to communicate honestly (and anonymously) with other sissies and with Mistresses too, with people who help me realize my inner nature.




---
RE: Must Have - GinaV - 12-31-2016

I have to agree the internet is a wonderful place to explore and connect and see what is possible. As for my physical lingerie draw it would have to be my bras.


---
RE: Must Have - davelo - 01-31-2017



For me it has to be the Crinkles Nappies/Diapers that I eventually stumbled upon. Here at last in UK you can buy decent nappies for us ABDL SISSIES .. I Love these nappies and wouldn't be without them now  so babyish with their cute teddy bear design .. The company that supply them can be found on line, for those that haven't discovered them already it's a company called Nappies'R'Us  ... Useless with PC so don't know how to post a link LOL    But Yes Fantastic just love their products, little bit more expensive than your normal incontinence nappies but, they are I think, imported from USA and so they have to cover their costs but well worth the money .




[attachment=420]




---